DINOSAURS & EARLY REPTILES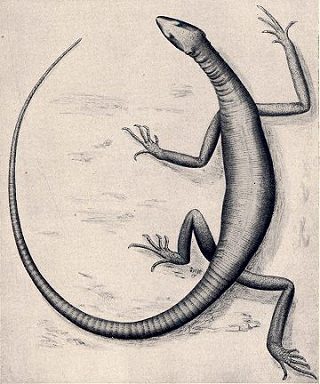 Araeoscelis
Araeoscelis was a 2 foot long lizard, a reptile that lived in North America during the Permian period almost 300 million years ago. It was a diapsid, a reptile with two openings in the side of the skull. Its significance is that it differed from its early diapsid relatives in that these openings were closed, making its skull more solid. The resulting powerful head and firmer bite gave it the ability to eat tougher insects like beetles with hard shells, leading to species survivability and proliferation. From the Diapsida, came the dinosaurs, pterosaurs and most of today's surviving reptiles and crocodiles.
Dimetrodon
280 million years ago during Permian period, before dinosaurs appeared, Dimetrodon lived in swamps and flood plains of North America and Europe and went extinct during the Permian extinction, 245 million years ago. It was a carnivore with a huge head, jaws and mouth. It grew to 12 feet long and weighed 600 lbs. It had sharp canines and shearing teeth.
Dimetrodon was the dominant predator of the Permian Period. It is sometimes called a "sail-back" dimetrodon. The "sail" on it's back absorbed the sun's heat and blood flow then warmed its body to become mobile earlier than other cold-blooded animals, which it could then catch and eat. Dimetrodon left no descendants.
Casea
Casea was one of the first terrestrial herbivores that lived in North America and Europe during the Late Permian from about 260 to 251 million years ago. It had a big gut for digesting ferns and other plants of the day. It lived about the same time as Dimetrodon, which likely ate Casea on cold mornings before they warmed enough to move.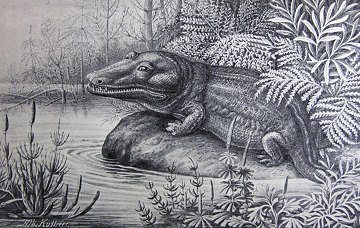 Mastodonsaurus giganteus
Mastodonsaurus giganteus was an amphibian from the Middle Triassic that lived in Europe from about 245 to 228 million years ago. It was one of three species in the genus Mastodonsaurus.
M. giganteus could grow up to 20 feet long and its huge head was 4 feet long. Two upward pointing tusks protruded through holes in the top of M. giganteus's snout. It was mostly aquatic and may have been unable to leave water as large numbers of fossil remains have been discovered together in what may have been pools which dried during droughts.
It lived in swamps and ate fish, which have been found in its fossil remains. Other amphibians' fossil remains have been discovered with tooth marks which may have come from Mastodonsaurus attacks.
Anchisaurus
Anchisaurus lived in Connecticut around 180 million years ago during the Early Jurassic Period. It grew to about 6 or 7 feet long and weighed about 60 lbs. One Anchisaurus discovery was mistaken for human bones. Anchisaurus was a herbivore and had stones in its stomach to grind hard to digest plants.
Megalosaurus
Megalosaurus was a large carnivore that lived in Europe about 181 to 169 million years ago during the Jurassic Period. It grew to about 30 feet long and weighed over 2,000 lbs. It had a large head and jaws with massive teeth. Megalausaurus would have had to eat other dinosaurs to consume sufficient food, most likely stegosaurs and sauropods.
Ceratosaurus
Ceratosaurus ("horned lizard") was a large predatory dinosaur that lived in North America and Europe around 156 to 145 million years ago during the Late Jurassic Period. It could grow to more than 20 feet long and weigh more than 3,000 lbs. Ceratosaurus had large jaws with blade-like teeth, a large horn on the snout, two small horns over the eyes and very short but strong forelimbs. It most likely ate other dinosaurs.
Allosaurus
Allosaurus was a large carnivorous dinosaur that lived in North America, Europe and Africa from about 155 to 150 million years ago during the late Jurassic period. They grew to about 30 feet long and 5,000 lbs. The largest Allosaurus may have been up to about 40 feet long. They had large heads and large teeth for ripping and devouring flesh. Imagine fleeing from several Allosaurus – some paleontologists think they hunted in packs.
Diplodocus
Diplodocus was a huge herbivore that lived in western North America about 154 to 150 million years ago during the end of the Jurassic Period when gigantic dinosaurs were common. Indeed, Diplodocus could grow up to 115 feet long with a 20 foot neck counterbalanced by an extremely long tail which contained 80 vertebrae. It would have weighed in excess of 30,000 lbs.
Brachiosaurus
Brachiosaurus was a large dinosaur with a very long neck that lived in western North America about 154-153 million years ago during the Jurassic. It was an herbivorous browser that could graze vegetation 30 feet high. It was 85 feet long and weighed almost 40 tons. Recent research leads some to believe Brachiosaurus may have been warm-blooded.
Brachiosaurus was discovered in Colorado in the Morrison Formation of North America. The Morrison Formation consists of layered deposits of Late Jurassic sedimentary rock, which extends through many states in western United States where many fossilized dinosaur remains have been preserved and discovered.
Brontosaurus
Brontosaurus was another huge herbivorous dinosaur that lived from around 154 to 150 million years ago during the Jurassic Period. Fossils have been found in Colorado, Wyoming, Oklahoma and Utah. Various Brontosaurus species grew to as long as 70 feet and weighed from 20 to 35 tons. The ever popular Brontosaurus has been featured in movies, children's cartoons, and even a US postage stamp where the Postal Service chose to use the name Brontosaurus over its more scientifically correct replacement Apatosaurus.
Stegosaurus ungulatus
Stegosaurus was a herbivore that lived during the Jurassic period around 155 to 150 million years ago in western North America and Europe. It could grow up to 30 feet long, 14 feet high to the top of its bony plates and could weigh more than 3 tons. Seventeen bone plates resembling giant 2.5 foot tall triangular teeth in two rows extending along Stegosaurus's back would have made it appear more formidable, may have been protective armor, and may have also absorbed and dissipated heat. Spikes near the end of its tail could damage when swinging its tail on attacking predators.
Amphicoelias
Amphicoelias was a herbivorous dinosaur that lived in North America around 150 million years ago during the Late Jurassic. It may have been the largest dinosaur ever. Amphicoelias may have grown as long as from 130 to 200 feet and weighed 135 tons!
The illustration by Carl Dahlgren from an 1892 issue of "Californian Magazine" is based on insufficient information. The neck would not have been curled and the tail would have been elevated and somewhat straight and level being used for balance. It's understandable that no one at that time perceived such huge animals would elevate extended appendages so far.
Compsognathus
Compsognathus longipes lived in Europe about 150 million years ago during the late Jurassic. They were very small dinosaurs, about the size of a chicken or turkey and walked on two legs. Remains have been found with lizards in their stomachs. They probably ate other vertebrates and insects. It's been suggested Compsognathus longipes might be related to Archaeopteryx which appear similar in some respects and have been discovered in the same deposits.
Iguanodons
One of the first dinosaur fossils to be discovered and one of the most popular. Iguanodons lived in North America, Europe and Asia from the late Jurassic Period to the late Cretaceous Period between 140 and 110 million years ago. They grew as large as 40 feet long and weighed up to 4 tons. Iguanodons were herbivores. They had bony beaks, toothless in the front to nip off plants and teeth for chewing similar to sloths. They had fingers! Scientists call them "digits". Iguanadon laid eggs and probably cared for their young.
This dinosaur ran on two legs. Bipedal dinosaurs (motivating on two legs), is not a recent theory. This sketch of an Iguanodon was published in 1921. However, Iguanodons might have become more quadrupedal as they grew and aged. The Iguanodon thumb spike was originally thought to grow on the animal's snout, similar to a rhinoceros. It was likely used to break seeds and other foods and as a weapon against predators like Tyrannosaurus rex, or Megalosaurus.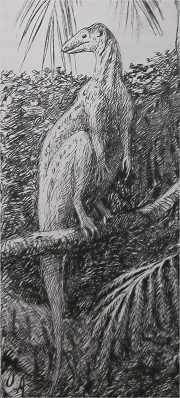 Hypsilophodon
Hypsilophodon lived in England about 120 million years ago during the Early Cretaceous period. They had sharp beaks, ate plants, grew to about 6 feet long and weighed about 45 lbs. This image of Hypsilophodon from the late 19th century is based on the misconception at the time that they climbed trees. They were, however, very agile and were able to run on two hind legs.
Claosaurus
Claosaurus was a duck-billed dinosaur (hadrosaurid) that lived in North America from about 80 to 70 million years ago during the Late Cretaceous Period. It was a herbivore that grew to about 12 to 16 feet long and weighed about 1,000 lbs.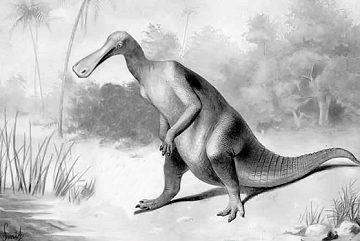 Hadrosaurus
Hadrosaurus was a duck-billed dinosaur that lived in New Jersey during the late Cretaceous, which ended in mass extinction 65 million years ago. It ate plants and could walk on its hind legs. A Hadrosaurus found in 1858 in New Jersey was the first nearly complete skeleton found and mounted and. It is the New Jersey State dinosaur.
Tricerotops
Triceratops is a commonly known dinosaur and depicted in countless animations often defending itself against Tyrannosaurus rex. Triceratops (Greek for "three-horned face") were herbivores that lived in North America during Cretaceous Period around 68 to 65 million years ago. They had a horn on the snout, two 3 ft horns above each eye, a large bony frill behind the skull, and robust, pillar like legs. They grew from 25 to 30 feet long, 9 to 10 feet tall and weighed from 6 to 12 tons. The largest skull discovered was 8 feet long. The frills and horns were traditionally believed to be defensive weapons against predators. Some think their purpose may have been for courtship and dominance displays, similar to today's goats and deer.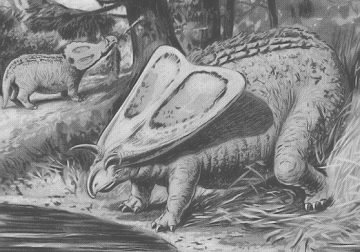 Torosaurus
Torosaurus was a quadrupedal (walked on 4 legs) herbivore that lived in what is now the Great Plains of North America from Texas and New Mexico to Canada around 66 million years ago during Late Cretaceous. It grew to 30 feet long, weighed 13,000 lbs and its huge frilled skull, lined with holes, largest of any land animal, was as long as 8.5 ft. It had a sharp beak similar to Triceratops for biting off tough plants. Some paleontologists have suggested Torosaurus is a mature form of Triceratops, while others have concluded they are closely related, but separate species.
Tyrannosaurus rex
"Tyrannos" and "sauros" are Greek for "tyrant," and "lizard". "Rex" is Latin for "king". Fitting for a 15,000 lb predatory dinosaur needing to continuously feed on flesh to sustain its life. For 2 million years, Tyrannosaurus rex, mad with hunger, hunted down and devoured everything it could find in western North America until the Cretaceous–Paleocene extinction event 65 million years ago. It was 40 feet long and 13 feet tall at the hips. It had huge powerful legs and a huge tail to balance its massive 5 foot long skull all held horizontally – perfect for chasing down and catching fleeing pray. Many of the antiquarian illustrations show incorrect posture, understandable for the times.